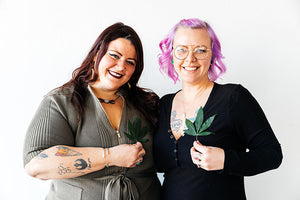 "I work at an assisted living center called Ralston Creek, and a resident there uses your salve and told me how it has helped her move her fingers again, and she can raise her arms higher than she could before."
- Stephanie C.
"Giiiirrrrllll, your salve is AMAZING. I got myself pretty beat up last weekend in the mountains. Your salve has brought my cuts and scrapes so much relief. I loved it before, and I especially love it now as it is my first time applying to cuts/scrapes/scabs. I don't think I'll use anything else from here on out! Thank you again sweet lady!"
- Jordan Z
"Hey dude! I just wanted to say I love your lotion. My ma has clogged arteries in her legs and when she puts the lotion on she no longer feels pain. You make such a beautiful difference in this world. Thank you for being a lovely lady. "
- Michele Z.
"He wants more salve and wanted to tell you how much the salve has helped him with his Lyme disease! He is so grateful."
- Nikki D. 
"I rubbed your magical [CBD] salve on lots of my friends today who also have spinal cord injuries and one has CP. They loved it! They are going to contact you to buy some more!"
- LeeAnn K.
"That elderberry syrup saved my life in less than 18 hours. You are my go to pharmacy now :) "
- Molly G.
"I'm recovering from breast cancer surgery and have found it quite good in controlling my pain as well as the pain from achy knees." 
- Sally D.
"I'm hoping you are the person I have trying to locate. I suffer from Lyme disease, and I was given a high CBD cream to help with my joint pain. It's the only thing I have found to help with my joint pain. Thank you."
- Leslie A.
"I just wanted to tell you that my boyfriend said nothing has helped his psoriasis in a decade the way your salve has. It truly has been a blessing and a lifesaver and I can't thank you enough. It's helped with his back pain too!"  
- McKenzie O.
 "I wanted to share with you that not only has your salve changed my roommates lives here in Wisconsin, the last one i bought from you is a KEY aspect in my girlfriends life over at her work in Oregon! its a hit with everyone she works with! you are MAGIC!! Thank you!!!"
- Hannah H.